Stainless Steel Pegs: An Awesome Plastic Free Idea
Are you tired of your plastic and wooden pegs constantly breaking or being ruined by the salty breeze? Do you want to minimise your contribution to plastic waste while hanging your washing to dry? Then stainless steel pegs are the lifetime option you are looking for.
Below are some ways to start living plastic-free with eco-friendly clips.
What's Special About Stainless Steel Pegs?
When you invest in eco-friendly stainless steel pegs, you purchase a product that will outlive less sustainable alternatives and is still recyclable when you are done with them. With stainless steel, there is no reason to buy plastic pegs ever again.
These alternatives are strong, durable, and meant to last. You can do more than just hang up your laundry with stainless steel clips. You can also hang up photographs, use them as clips for bunting, or in the kitchen and garden.
You don't even have to worry about stainless steel clips heating up in the sun or leaving streaks in the fabric on the hottest Australian summer days. Your clothes and your fingers will be thanking you for choosing these as your clothes pegs.
When you shop for stainless steel clips, you choose pegs for life.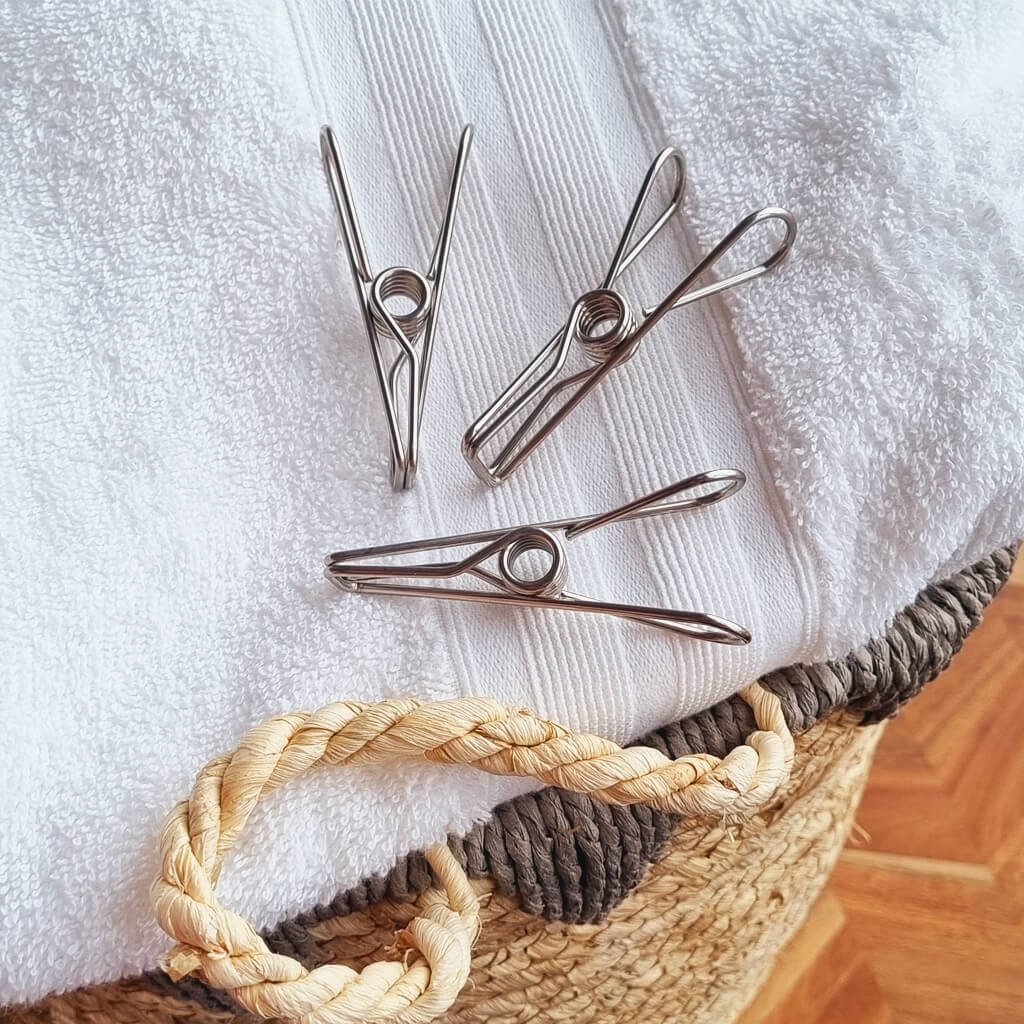 Choose Stainless Steel Pegs for Life
You can stop buying plastic pegs if you opt for a life with stainless steel. The advantages of stainless steel outweigh those of other materials. You won't miss stepping on a broken peg or dealing with corrosion. They are marine grade and last long enough to be passed down to your kids.
Each stainless steel peg will stand the test of time. They are zero waste and can hold on tight to bulky items including jeans, blankets, and sheets.
You can leave stainless steel clips on the line if you live in a region that isn't constantly hit with salty air, but for the best care, store all the pegs inside. Otherwise, it's recommended you shield the clips using a bucket with holes to let rainwater wash off the salt.
What About Plastic and Wooden Pegs?
Plastic is not ideal for clothes pegs because they break and need to be replaced. They easily rust and become brittle, breaking into pieces that litter the garden. Plastic options are bad for the planet and can be dangerous to wildlife if they find pieces of plastic clothes pegs on the ground.
Wood and bamboo seem to be a more sustainable option for clothes pegs at first glance, but they don't hold up well in humid weather. They can mould when they are left outside too long, gathering salt from the wind. If you live in a coastal region, marine-grade stainless steel is the best choice.
Plastic and wooden are not as strong in windy conditions. Their metal spring mechanisms can easily rust in the humidity. The life of stainless steel clips will cover the life of every wooden and plastic clip in all the packs you buy in a year.
Why You Should Say No to Plastic Pegs
You are doing your part to save the environment when you stop shopping for clips that break and need to be tossed out by the end of the season. Ecolikely provides many options for stainless steel clips. They come in a variety of colors, sizes, and prices to suit every preference.
You can get a regular size rainbow 100 pack for the regular price of $64.95 to a large rose gold 60 pack for the regular price of $94.95 per sale sold. If you're on a budget, you can opt for cheaper metal pegs with a large size 60 pack for the regular price of $79.99.
Never Buy Plastic or Wood Pegs Again
When you shop with Ecolikely, you are saying goodbye to the frustration of broken pegs and rust, and the life of sustainable home care products. You can grab some of the best clips for an unbeatable regular price that won't break or bend, even on the hottest days.
Shop for quality pegs right on your mobile device. Just add it to your cart qty, check out, or continue shopping. Enjoy steel pegs to the fullest with Ecolikely today!